Written on December 22, 2011 at 8:30 am , by Christie Griffin
My Christmas cards finally went out, complete with a list of 11 things I learned in 2011. Among the lessons? "Sometimes you have to peel shrimp before you eat them. —Dewey Destin's, Emerald Coast, Florida"
(I also learned Yoloboarding in Florida, but I wanted to keep my destinations diversified!)
My point: As the year wraps up, we can't help but think about the memories we made in the past twelve months and the trips we took. Our Fit Stop readers have heard about staff adventures like Karla's in Colorado  and Marla's in Mexico, and I'm going to throw another log on the inspiration fire: When you're thinking about your affordable options in 2012 and looking to get a little sand in your soul and in between your toes, I'd head toward the "Emerald Coast" (Destin area) in Florida. Because I like lists, here's why:
*The sand is like perfect, white flour and the water is a pretty, jewel-green. It doesn't feel like other American beaches. My sun salutations were extra peaceful!

*It's where YOLO/paddle boarding really took off! You can rent a board for $20 from lifeguards and don't need any special lessons. I scored mine right outside  the Inn at Crystal Beach, which is where I was lucky enough to stay.
*Locals call it the "World's Luckiest Fishing Village." I had absolutely no idea what I was doing and just look!
*There are a lot of family-friendly things to do, like parasailing, jet-skiing, the "Gulfarium" (sooo fun!), dolphin watching, and more!

*There are grown-up things to do, too: golfing, wine and cheese cruises, and even the top level of AJ's Seafood & Oyster Bar turns into quite the party later at night!
*Lastly, the people are so nice and you're treated like a new friend, rather than a tourist…Which can be a huge sigh of relief when you have no idea how to eat their local cuisine.
For more on the Emerald Coast, visit emeraldcoastfl.com or check out this cool video.
Written on December 21, 2011 at 3:34 pm , by Karla Walsh
The festival of lights (a celebration related to oil) can't be the most diet-friendly holiday, right? Wrong, says the team at Whole Foods Market! The natural and organic grocery chain has given more than a dozen Hannukkah recipes a healthy makeover so you can be both festive and fit.
Try out these root vegetable latkes—prepared with heart-healthy olive oil—and serve them with homemade ginger applesauce for a tasty side with around 150 calories!
Mini Potato-Carrot Pancakes
Serves 12
2 green onions, thinly sliced
1/2 small yellow onion, grated
2 large carrots (about 1/2 pound), peeled and grated
1 large russet potato (about 3/4 pound), peeled, grated and squeezed to remove excess water
1 egg, lightly beaten
2 tablespoons all-purpose flour
3/4 teaspoon salt
1/4 teaspoon ground black pepper
6 tablespoons extra-virgin olive oil, divided
In a large bowl, fold together onions, carrots, potatoes, egg, flour, salt and pepper until well combined.
Heat 3 tablespoons oil in a large skillet over medium heat. Working in batches, form each pancake by dropping about 2 tablespoons of the potato mixture into the skillet. Space pancakes about an inch apart, flatten and cook, flipping once, until deep golden brown and cooked through, 8 to 10 minutes total. (Add remaining 3 tablespoons oil to skillet halfway through.)
Transfer to a paper-towel lined baking sheet to drain briefly. Serve with a teaspoon of applesauce on each.
Nutrition information per serving (2 pancakes): 120 calories, 8 g fat
To learn how to make homemade applesauce to top these latkes, click below.
Written on December 21, 2011 at 1:01 pm , by Diets in Review
By Kati Mora, RD for DietsInReview.com
As the weather turns colder, nothing quite hits the spot like a bowl or cup of delicious soup. Homemade soup is typically the most nutritious option for when you're on a diet, because you have total control over which ingredients you add or omit from the mix…but it's not always possible on a hectic day.
When canned soup is more convenient, knowing how to determine which ones are your best choice is important. Not all canned soups are created equal, so here's what to look at on the label:
Fat
Cream-based soups are often higher in fat than their broth-based counterparts. Although this is an admitted generalization, you can be sure you are choosing a soup low in fat by checking the label. If your soup has 3 grams or less of fat per serving, consider it a low-fat choice.
Sodium
Canned soups are notorious for their often high sodium content. Again, broth-based soups are typically lower in sodium than cream-based options, but this may not always be the case. You're best bet? Soups that have 360 grams of sodium or less in each serving.
Fiber
If you can, try to grab a can of soup that has at least 10% of its daily value of fiber. Most Americans don't get enough of this very important nutrient. Plus, the more fiber your soup has, the more likely it will keep you feeling full.
Vitamins and Minerals
The more nutrients your canned soup has, the better. Look for soups that have plenty of vegetables, beans, and lentils. These ingredients can increase the amount of vitamin A, vitamin C, iron, calcium, and protein your soup has and help you more easily reach your daily nutritional needs. Plus, bean- and lentil-based soups are often higher in fiber and lower in sodium than other soup varieties.
Look for the Word "Healthy"
Soups that use the word "Healthy" in their brand name are required to meet specific guidelines. Brands such as Healthy Choice, Campbell's Healthy Request, and Healthy Valley must keep sodium levels below a certain threshold, as set forth by the Food and Drug Administration. This means that these food may have a lower sodium option than others; however, it is still important to turn the can around and determine for yourself whether the sodium levels in each can meet your own specific requirements for health.
MORE from DietsinReview.com: If you do want to prepare your own healthy soup, try these recipes. It's easy to spend some time on the weekend making a big batch (or two), filling single-serving containers, and then freezing or refrigerating for the perfect brown bag lunch during the week.
Written on December 21, 2011 at 12:02 pm , by Karla Walsh
The week before last Christmas, Dr. Ed Chicoine, a Canadian chiropractor told his family that he wanted to run across the United States and Canada to "create a wellness revolution." He thought that raising awareness and starting a petition—with a goal of one million signatures—would help to influence government policy. "Health care seems to be more like disease care today. Society can save money over the long run if we start thinking of ways to improve health that may be outside of the box, like subsidizing more wholesome foods," Dr. Chicoine says.
It took three months for his kids to put their lives on hold, but six out of seven of them decided to join their dad on the "Marathon of Health" journey, which began in Vancouver on May 9. They made stops along the way at schools—"kids like hearing from other kids," one young Chicoine says—and looped around the outer edge of the U.S. They stopped in New York City, and at the FITNESS offices, along the way to chat with us about their project.
A few of the best "overheard" quotes from our discussion:
Since they traveled in an R.V. designed for two people, "running provided a couple hours of freedom."
"We've eaten out about ten times so far and do all of our cooking in the motor home. I really don't know how to cook anything for less than eight people!"
"We stock up on a lot of oatmeal since we have that every morning for breakfast."
"Driving in traffic is so much more exhausting than running 10 miles!"
To learn more, sign the family's petition and find simple steps to improve your health and longevity from experts working with the family, visit marathonofhealth.com.
More from FITNESS:
Written on December 21, 2011 at 9:53 am , by Jenna Autuori
The start of the New Year means the start of so many new fitness routines. Hitting the gym hardcore may be your 2012 resolution (studies say losing weight or getting in shape is the top promise people make), but what about those "off" days, when you're sore or just don't feel like getting your butt kicked by your favorite bootcamp master?
That's why we thought it was so important to give you a total-body stretch/yoga routine that'll keep your body moving but also give it a nice break too. Plus, when things get hectic before the New Year even begins, you can take a breather with these relaxing moves. January's Express Workout moves from YogaWorks instructor, Keisa Parrish, come straight from her popular DanceWorks class. Psst…Keisa was a former New York City Rockette too! How cool is that?!

You were a Rockette. What was it like to have this job? (It seems amazingly fun!)
It was amazing! There's nothing like being apart of a legacy and a sisterhood that spans many generations. And performing for about 6,000 people, is not half bad either!
How did you get into dancing?
Well, it was actually Ms. Renee (the school secretary) who saw me "moving" in the fifth grade Christmas show. And she thought I was a natural dancer and suggested I go take class at Universal Dance Design. These legs haven't stopped yet.
What's one thing people would be shocked to find out about Rockettes?
That they do anywhere from two to five shows a day during the Christmas season.
Is Christmas one of your most favorite times of the year?
Yes, it definitely is. I love New York City at holiday time. The lights, decorations, the shows and attractions, the family feeling in the air. Hands down favorite time of year!
What's on your holiday wish list?
Two things! A day at Bliss Spa to pamper myself (I've been saying this for four years now…we'll see if it happens!) and Rachael Ray serving size casserole dishes. It would be easier to make my son's favorite homemade mac and cheese!
Written on December 20, 2011 at 4:22 pm , by Colleen Travers
Put your laundry list of resolutions away and just have one goal this year, to be healthy. Easy enough, right? Don't worry—there's an app for that now. The Macaw Health and Fitness App will help keep you on track by transforming your smartphone into your own personal health hub in 2012.
Macaw takes all your separately downloaded health and fitness apps—everything from pedometers to glucose monitors and sleep logs— and keeps them in one place for easy tracking and viewing. With a quick seven question health assessment Macaw will also set up a personalized goal plan for you while sending automated preventative screening reminders based on your gender and age. Need some more incentive? Try the weekly fitness challenges the app provides to unlock some freebies. Goodies for getting fit? We like!
The Macaw app is free to download and is available at the iPhone App Store or Android Market.
Now tell us: What fitness and health apps are your favorite?
More from FITNESS: Get Express Workouts on Your iPhone
Written on December 20, 2011 at 12:02 pm , by Karla Walsh
Just like you, our staff is gearing up to celebrate the holidays with family and friends! While we're planning to indulge (Exhibit A: the discussions about cookies and feasting below; Exhibit B: the dessert spread at our staff holiday party!), we also have some fit customs that have been passed down through the generations.
Here are a few of our favorite fun ways to mark the holidays with our loved ones.
"My sister and I make a large variety of cookies, then give them as gifts and share with each other! A lot of time is put into creating the different varieties, but now we have help! We're continuing our productions with the assistance of my two helpers—my niece and nephew." — Elaine Roake, photo director
"Everyone in my family is a huge fan of games, so some new contraption finds its way under the tree each year. On Christmas, after opening gifts and eating breakfast, we spend the morning testing out our new game, whether it's Rock Band, Wii Fit or something else equally fun!" — Samantha Shelton, editorial assistant
"On Christmas, my brother and I usually run three miles around a lake near my parent's house. That way we don't feel too guilty filling up later at our Aunt Christine's epic Christmas Day feast." — Lisa Haney, health editor
"My mom and I make these special thumbprint cookies. Now that I'm not at home anymore, she always sends me a batch and I send her some of mine too. I even made them for a holiday party I hosted this past weekend!" — Jenna Autuori-Dedic, fitness editor
"One of my favorite holiday traditions with my good girlfriends is our Holiday White Elephant Thong Party. Instead of bringing gifts, we buy elaborate, ridiculous, hilarious undergarments to put under the Christmas tree. (They're all brand-new of course…and are usually from Victoria's Secret!) The night is always an absolute riot and I don't think gift-giving can be more entertaining!" — Christie Griffin, digital director
"If there's snow on the ground, my family and I would always take the opportunity to build our snow 'twin' with all of the trimmings—charcoal eyes, carrot noses and paper towel roll arms. They even get our hats when we're sweating from all the rolling, packing and lifting. Biggest snowman wins!" — Karla Walsh, editorial assistant
"On New Year's Eve, I do the Emerald Nuts Midnight Run in Central Park. The gun goes off at midnight along with the fireworks. It's four miles and this is my third year doing it. It's fun to start the new year off with a run and it makes me feel like I'm able to stick to running and staying fit all year long." — Argy Koutsothanasis, fashion director
Now tell us: What is your favorite holiday tradition?
Written on December 20, 2011 at 7:00 am , by fitsugar
Want a balanced lunch that offers fiber and protein? A sandwich has your back, but choose the wrong add-ons and condiments, and it's a whole day's worth of calories in a few bites. Here are ways to cut calories from this favorite lunchable — they may not be huge amounts, but keep in mind that little bits definitely add up.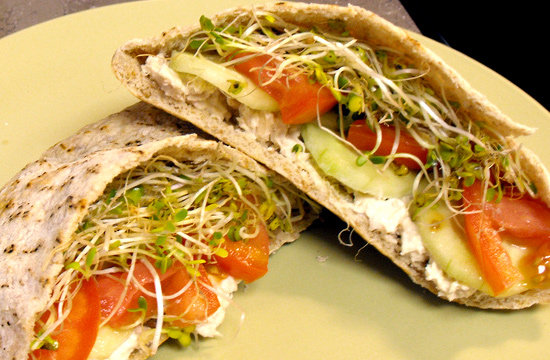 Keep reading for more ways to save sandwich calories.
More from FitSugar:
What 100 Calories Really Looks Like
How to Save 100 Calories at Breakfast, Brunch, Lunch, Cocktail Hour, Dinner
Written on December 19, 2011 at 1:04 pm , by Karla Walsh
Dara Torres has been one of our heroes here at FITNESS for years. She even appeared on the cover a couple times in the '90s! But this 44-year-old fit mom is out to prove that age is just a number and is training to compete in her sixth—yes, sixth—Olympic Games.
We had to ask: Will there be seven? "This will be my last try at the Olympics, no matter what. Going back to 1984, I had always thought that would be my last swim, but I mean it this time," says Torres, who was in town as a BENGAY Brand Ambassador.
As she prepares for her final quest for Olympic hardware (she already has twelve medals), we sat down with Torres to learn more about her training, her hobbies and the other swimmer in her house.
You recently had surgery—how are you feeling?
I took a year off after the 2009 World Championships to have a cartilage transplant in my knee. It really helped with my quality of life—I can now walk without pain and train again. But I never completely stopped. I would do pull-ups with my crutches resting against a nearby bench! Being fit is so important to me. Exercises relieves stress, gives me energy and I like the way I look because of it.
Speaking of that training, what does a typical week look like for you?
I train five days a week while my daughter is in school and take Thursdays and Sundays off. I swim for two hours, spend 60 to 90 minutes in the weight room and do 45 minutes of leg rehab, including Ki-Hara resistance stretching for recovery.
So the 2012 Olympics are in seven months! How do you feel?
The trials are at the end of June and beginning of July. I'm training for that now, or as I like to say, "I've been training for this since I was eight!" My Olympic prep really began in August 2010. I'll be 45 by the Olympics, so tapering before trials is important, but I can't rest quite as much as I used to because I lose muscle quicker at my age.
For Dara's pick for the next great swimmer and her favorite pool-free activities, Read more
Written on December 19, 2011 at 9:44 am , by Karla Walsh
Over the past 12 months, we have shared 34 playlists here on The Fit Stop to keep you pumped up! If you're anything like us, you're on the perennial search for new, motivating tunes, and it's always fun to spy on what's blasting in your neighbor's ears. (Want to try something really fun? Steal our digital director Christie's tip and let a pal play DJ, creating a new playlist on your iPod!)
So to wrap up 2011 on a high note, we're making sure we have all of these favorites from the last 365—as selected by you. Here, the top 10 most-searched songs of 2011, courtesy of Yahoo!
Find more top trends from 2011 at yearinreview.yahoo.com.
Photo courtesy of Shutterstock
Now tell us: What was your song of the year?