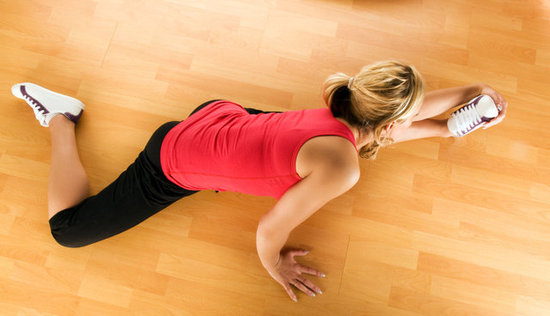 A little bit of sweat every day goes a long way. (Photo courtesy of FitSugar)
Spring is around the corner, which means warmer weather and shedding clothes. But you don't have to panic if the workout clothes you got for Christmas haven't exactly been worn out. If you've been on a Winter hiatus, start anew with these tips for getting back into a healthy routine.
It's common sense: The thing about living healthfully is that a lot of it is just common sense, says celebrity trainer Harley Pasternak (he's responsible for Rihanna's amazing Grammy body). When you can make a few healthy changes, do it. It doesn't take much thought to know that moving around more burns more calories than sitting all day, or that you can get your exercise for the day by walking to the store instead of driving.
Every little bit counts: Harley also says that remembering this can also help you make the common sense decision. Instead of thinking of exercise as a huge daunting, boring task, think of your goals in smaller increments. When you walk around, every step or healthy food choice helps you to your goal.
Don't overdo it: Going all out for it after not exercising for awhile can take its toll on your mind as well as your body. To prevent injury and a discouraged feeling, start small and work your way up slowly when you're ready. "Take it slowly, bite off sizable aspects of your fitness routine that you can complete, don't underdo but don't overdo," celebrity trainer Gunnar Peterson recently told us. "Overdoing it is going to kill it. You can't overhaul your entire fitness and health regimen in one day."

Read on for more ways to get back into your workout routine.
More from FitSugar:
4 Ways to Substitute Cooking Fats With Greek Yogurt
5 Ways to Make Your Home a Safe Haven From Colds and Flu