Want a balanced lunch that offers fiber and protein? A sandwich has your back, but choose the wrong add-ons and condiments, and it's a whole day's worth of calories in a few bites. Here are ways to cut calories from this favorite lunchable — they may not be huge amounts, but keep in mind that little bits definitely add up.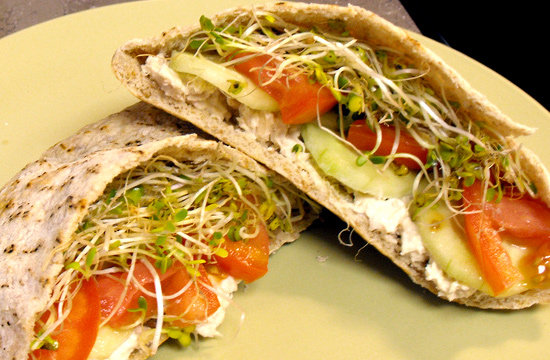 Whole-wheat pita (170) instead of two slices of whole-wheat bread (200): saves 30 calories
Spinach wrap (180) instead of a sun-dried tomato and basil wrap (210): saves 30 calories
Two pieces of Romaine lettuce (10) instead of a whole-wheat wrap (120): saves 110 calories
Go open-faced: Eat one side of a whole wheat roll (190) instead of the whole roll (380): saves 190 calories
Two ounces of sliced roasted turkey (60) instead of two ounces of sliced ham (70): saves 10 calories
Go for two ounces of sliced roasted chicken (60) or two ounces of sliced roast beef (60) instead of two ounces of sliced pastrami (82): saves 22 calories
Keep reading for more ways to save sandwich calories.
More from FitSugar: What 100 Calories Really Looks Like 10 Healthy Sandwich Recipes How to Save 100 Calories at Breakfast, Brunch, Lunch, Cocktail Hour, Dinner