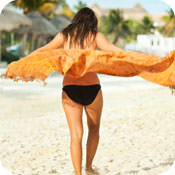 Photo courtesy of SparkPeople
Eighty percent of women report having at least a little cellulite. And even though it isn't harmful, it's not exactly welcomed. Here's a round-up of some healthy lifestyle habits that have been shown to help reduce the appearance of cellulite. They seem obvious, but if you commit yourself to them they might help you see results...


Lose weight. Although you may not be able to get rid of cellulite completely, when you lose body fat by exercising and eating a healthy diet, you can greatly improve the appearance of dimpled skin because you'll have less fat pushing up against your skin.
Resistance train. There is no such thing as spot training (losing fat in a specific body area by exercising it), but by strengthening and building your muscles—particularly in areas where you carry cellulite—you can give your skin a more even texture and tone.
Do cardio. Aerobic exercise is a fantastic way to burn calories and burn fat, thereby reducing the size of fat cells under the skin.
Eat a healthy diet. Eating a diet full of fruits, vegetables,

lean proteins

, healthy fats and whole grains can give your body the essential vitamins and minerals it needs to properly burn fat and keep your skin and tissues healthy. In fact, healthy proteins from nuts, beans and fish, and antioxidant-rich green tea, berries and garlic can help build up collagen—a connective tissue that helps plump up the skin and makes the signature peaks and valleys of cellulite less extreme. A healthy diet full of vitamin C, vitamin E and omega-3 fatty acids

can also

improve skin

texture.

Stay hydrated. Drinking enough water is an easy way to improve the texture of your skin. It seems counterintuitive, but by drinking more fluid, your body actually releases excess fluid that you may have been holding onto (including in your cellulite-prone areas).
Continued: Cellulite solutions like massage, liposuction, creams, and more.
More from SparkPeople:
How to Get Your Daily Dose of Vitamin D

Sun Protection Tips for Healthy Skin