Written on December 20, 2011 at 7:00 am , by fitsugar
Want a balanced lunch that offers fiber and protein? A sandwich has your back, but choose the wrong add-ons and condiments, and it's a whole day's worth of calories in a few bites. Here are ways to cut calories from this favorite lunchable — they may not be huge amounts, but keep in mind that little bits definitely add up.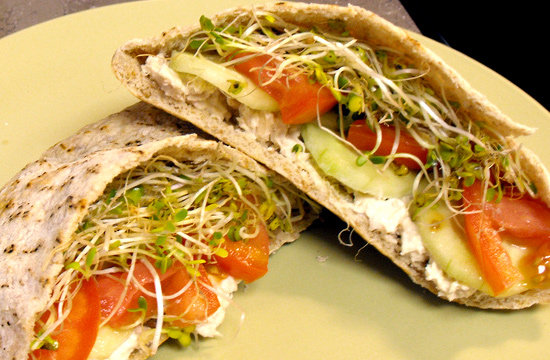 Keep reading for more ways to save sandwich calories.
More from FitSugar:
What 100 Calories Really Looks Like
How to Save 100 Calories at Breakfast, Brunch, Lunch, Cocktail Hour, Dinner
Written on December 16, 2011 at 7:09 am , by Colleen Travers
Need a little help to get back on track from the pre-holiday calorie bombs you've been walking into lately? It might be time to test out the P.I.N.K Method to help you not only lose extra weight, but keep it off for good.
The program stands for Power, Intensity, Nutrition and Kardio and is the latest diet plan designed specifically for women. Each set comes with three DVDs that feature three 20, 30 or 40 minute workout routines led by a group of female trainers. In each of these phases, you'll work on your endurance, intensity, and nutrition to keep your metabolism ticking and preventing a plateau. For example, in Phase 1 you'll develop a strong exercise base and increase your endurance. Phase 2 will work on upping your intensity and Phase 3 you'll kick your workout up to a point you never thought you could, torching calories long after you've stopped sweating.
The P.I.N.K Method also comes with a nutrition guide and workbook developed by nutritionist (and one of the experts to our Fat-Proof Your Holiday Guide) Cynthia Pasquella, CCN. She'll provide you with meal plans and mini diet programs to follow along with your workouts that will help the weight melt off. Pasquella will also teach you what to eat to fuel your body the right way with healthy, yet dense foods that fill you up longer. The program is set up so that the diet plans and workouts change constantly, so your body never gets used to one routine and is always working.
Interested? For more information on the P.I.N.K Method, visit pinkmethod.com. If you're already a P.I.N.K member log on TODAY, December 16 at 2 p.m. PST for a live chat with Pasquella to ask her questions about your program. You can also watch Pasquella's last live chat here, to see if your question has already been answered. She's also doing another live chat on January 9, 10 a.m. PST, so log on to get more fitness tips!
Written on October 24, 2011 at 2:29 pm , by Colleen Travers
You gave up sweets, get plenty of sleep every night, and your pantry looks like a Whole Foods boutique, yet your waistline hasn't budged an inch — so what gives? JJ Virgin, celebrity nutrition and fitness expert and co-star of the TLC series Freaky Eaters says that these healthy habits might actually be harming your weight loss efforts. We caught up with Virgin to debunk five sneaky food sins that seem healthy, yet are actually making you gain weight. Check out what they are below.
You eat too much healthy food. "When it comes to your calorie intake, you have to think of your body as a bank account," Virgin says. "Just because strawberries are healthy doesn't mean you can eat 4 pounds of them. The same goes with nuts — yes, they are healthy but eat too many and they're not. People I work with often experience the halo effect — they know they are eating something healthy so they eat more than they should, which counteracts eating healthy in the first place."
 You're eating healthy foods, but they might not be healthy for

you

. Your body has an inflammatory reaction to hold on to weight when you eat some staple items such as eggs, dairy, and soy. "When my clients pull these foods out of their diet, they lose 5 to 10 pounds almost instantly," Virgin says. Try swapping coconut milk (she likes So Delicious Coconut Milk) instead of soymilk and start to see a difference in your middle.
You skimp on breakfast. Not having a big enough breakfast sets your metabolic tone for the entire day. In a recent study, people who ate a larger breakfast (approximately 600 calories) lost more weight and kept it off than people who only had a 200 calories breakfast. Virgin recommends starting the day off with a shake for a healthy start. "Having a latte and a muffin will send your blood sugar crashing by 10 a.m.," she says. "I tell my clients to make a pea rice protein shake with berries to keep your blood sugar stabilized and help you stay in fat-burning mode."
Written on October 19, 2011 at 12:08 pm , by Colleen Travers
Hollywood got quite the shock this week when E! News host Giuliana Rancic announced that she was in the early stages of battling breast cancer, stressing the importance of early detection and BCA month that much more.
To help with the cause, Nestlé Pure Life bottled water is partnering with The Breast Cancer Research Foundation for the second year to help fund researchers who are trying to identify a drug that will prevent the development of cancer in those with the mutations in the BRCA gene (the breast cancer susceptibility gene) before it occurs as a detectable lump. This drug would have the potential to save women from having to undergo a bilateral mastectomy, the only other known preventative step for those with the inherited genetic mutation.
To support the cause, ten cents from every package of Nestlé Pure Life containing the special "Pink Pack" packaging will be donated to the Breast Cancer Research Foundation. Nestlé Pure Life was able to donate $500,000 last year through the campaign's efforts and is hoping to increase funds this year. So before you stock up on bottled water this weekend, check the label to make sure you're helping out where you can!
For more information, visit nestle-purelife.us.
More from FITNESS:
Your Guide to Healthy Breasts: What Those Lumps and Bumps Really Mean
Written on October 18, 2011 at 7:00 am , by fitsugar
Some ailments need the power of the medicine cabinet, but other times when you're not feeling that hot all you need to do is look toward the spice rack. Whether you're in a bad mood, can't stop coughing, nursing a hangover, or have post-workout soreness, here are four spices that can help you feel better — no medicine required!
What: Peppers
When to use: When you're feeling down.
Why: The hot feeling you get in your mouth is from the compound capsaicin. It triggers pain receptors in your mouth, which causes your brain to release feel-good endorphins to compensate.
How to eat: Spice up a cold, dreary day with this spicy-sweet chili recipe, or this recipe for a healthy version of spicy eggplant.
What: Ginger
When to use: When you're fighting a cold or feeling nauseous or achy.
Why: Remedy the sniffles, aches, and congestion of the season with ginger; ginger contains a chemical that helps reduce nausea and inflammation symptoms, and ginger tea has been a tried-and-true congestion remedy for years.
How to eat: Whip up this ginger tea recipe the next time you are feeling under the weather, or dress up your dinner with this ginger-garlic broccoli recipe.
What: Sage
When to use: Those foggy-headed days.
Why: The ancient herb has been used for anything from sore throats to aiding fertility, but studies haven't been done in every area to see how effective the ancient herb is. Small studies, however, have shown that sage works in improving mental performance in thinking and learning in both younger people and older Alzheimer's patients.
How to eat: Go fresh with this bean salad recipe that uses fresh sage and other herbs, or remedy cut the foggy-headedness with a cup of sage tea.
Read on to learn more natural remedies.
More from FitSugar:
Written on October 14, 2011 at 4:11 pm , by Karla Walsh
This week's fit links from around the web:
Written on October 12, 2011 at 2:53 pm , by FITNESS Intern
Written by Alyssa Belanger, editorial intern
An apple a day keeps the doctor away, right? Staying healthy and strong may not be quite that simple, but dietary supplement specialist Lori Bestervelt of NSF International has some simple tips for staying on top your fitness game as marathon season approaches and the weather gets colder.
1. Stay consistent. If you're planning on starting a new supplement, switching up your diet or even trying a new sports drink, be sure that you give your body time to adjust. "Trying something new on race day can literally be the kiss of death," according to Bestervelt. It's important to incorporate anything that you plan to do on race day into your regular training schedule well in advance that you won't be surprised by the way your body reacts to these changes.
2. Start popping a pill. Whether you're training for the next big race or frequenting the gym for a spinning class, you need your vitamins! Bestervelt recommends getting a good daily multivitamin to maintain good health. Check your multi's label at fda.gov  to make sure you're getting all the nutrients your body needs.
3. Rise and shine, rain or shine. "Practice for every kind of weather, because you have no idea what you're going to get on race day," says Bestervelt. It may be hard to get out of bed on a rainy day when you've been spoiled by summer's sunshine, but training for different weather conditions will ensure that your body is ready for whatever comes your way on race day. Be sure to stock up on waterproof gear to keep you warm and dry, too!
Bonus Tip: Studies have shown that people with low levels of vitamin D have increased respiratory infections. If you are training in rainy or cooler conditions, be sure to stock up on vitamin D, which helps strengthen your body's immune function. Bestervelt suggests taking 2000-5000 IUs (international units) for those who exercise heavily.
Tell us: What do you do to prep your body and mind before a big race?
More from FITNESS:
Written on October 10, 2011 at 12:38 pm , by Colleen Travers
When you hear the words "plant-based diet," you probably think of a diet of eating nothing but kale, seaweed and other less than appetizing to think about greens if you're not a vegetarian. But according to Kathy Freston, author of Veganist: Lose Weight, Get Healthy, Change the World it also includes whole grains, nuts and soy food. Freston (who is best known for convincing Oprah to go vegan for one week) gave us the benefits of incorporating more plant-based foods in you daily diet in honor of National Vegetarian Month. See why you may want to consider swapping in a few of these below.
Plant-based foods can improve your health. "They are often associated with lower rates of heart disease, stroke, and diabetes because they are high in nutrients and low in calories and saturated fat," says Freston. Plant-based foods also contain no cholesterol, which can help lower your overall cholesterol intake.
You can take baby steps. Meat lover's fret not, Freston says you can slowly start to incorporate plant-based foods into your diet. Try making Monday's "Meatless Mondays" or make small daily changes that you won't notice as much. "I use Silk PureAlmond Almondmilk on my cereal in the morning," Freston says. "You can also use veggie sausage and soy bacon instead of animal-based foods or meatless meat crumbles for tacos and chili."
Read on for more ways to eat more veggies.
Written on September 22, 2011 at 9:02 am , by SparkPeople
We've all done it, and sometimes we don't even realize when it's happening: We have all eaten something when we weren't actually hungry. And while that's OK from time to time, too much eating without thinking can really hurt your weight-loss goals (and possibly your health).
Take a look at these 10 situations that encourage you to eat when you're not hungry…and how to solve them!
1. To Cope
Happy? You might eat a treat to celebrate. Sad? You might eat to soothe yourself. It may help to track your eating habits in a journal, noting your emotional state when you headed for that snack. Writing it down may help you make a connection you hadn't seen before, like the fact that you eat when you're lonely or angry.
2. Out of Boredom
For many people, eating seems like a good solution when there's nothing better to do–whether you graze at home on the weekends or entertain yourself with lavish dinners out.  If you know boredom is a trigger for your eating, have a list of strategies in place to keep yourself busy: Catch up with an old friend, write an old-fashioned snail-mail letter, write in your blog, read, or workout! Eating won't seem as appealing if you have a fun alternative to keep yourself occupied!
3. Because Other People Are Eating
It's easy to indulge when others around you are eating, too. Research shows that our habits mimic our companions' actions in situations like these. You don't have to swear off happy hour with friends to watch your weight though. When your dining companions devour a second basket of bread or chips, or order dessert, don't automatically follow suit. Check in with your hunger level to see if you really need it to be satisfied with the fun conversation.
4. Because Food is There
Whether it's party food or an office candy jar, when food is in plain sight, it can be too easy to grab. If you're unable to nix the trigger food altogether, move the treats out of sight—you'll be less likely to grab a handful. So if you buy a bag of Oreos, put them on a high shelf in a cabinet—not on the counter. Instead of a clear candy jar, try an opaque one or move it to another location. When you're already full and food is out at a party, stand with your back to the table or in another room.
Read more
Written on September 21, 2011 at 1:10 pm , by Karla Walsh
Do you wake up every morning and bounce out of bed, ready to take on the new day? Probably not, but registered dietitian and FITNESS advisory board member Ashley Koff says that fantasy can be a reality. In her new book Mom Energy: A Simple Plan to Live Fully Charged, co-authored by trainer Kathy Kaehler, Koff shares simple suggestions for moms—or anyone!—to live a more pep-filled life.
"Today we're giving out our energy to so many different spaces. It's really important to focus on how to bring some energy back in your life," Koff says.
Here are her top five tips for a diet that will rev your engine:
Aim for better energy, not just more. "The pursuit of more energy can lead to harmful highs and lows, as people often turn to espresso, sugar or supplements. I tell my clients to aim for 'better' energy by following the next four steps."
Watch your portion sizes. "Think of one carbohydrate serving as about the size of your fist and one protein serving as the size of your palm. I don't recommend cup measurements because caloric and nutritional needs depend on your body size."
Be a "qualitarian." "The type of fuel dictates how your body runs. Try to make the highest quality choices available, and you will get more nutrients. Our bodies perform best on foods that it recognizes—in other words, non-processed foods."
Eat every three hours. "Your body is a race car not a street car. Fill up about every three hours and your body will use this as energy, rather than store it as fat. This also makes smaller meals less daunting, knowing that you'll eat again in just a few hours!"
Include protein, fat and carbs in every meal and snack. "Carbs provide a one-hour boost, and protein and fat each offer one hour of longer-lasting energy. This works perfectly with the three-hour eating plan and helps your metabolism work most efficiently."
Keep reading to find a sample day's eats on Koff's vitality-boosting diet!