Written on February 14, 2012 at 7:00 am , by fitsugar
If you work or go to school full time, getting your sweat on in the wee hours of the morn is probably the only time you can fit it in. Kudos to you for resisting the urge to hit the snooze button and skip out. Make setting your alarm and pulling yourself out of bed worth all the effort and avoid these morning exercise mistakes.
Not eating: It's super early, but you need to eat in order to fuel your workout. Munch on something small while you're getting ready, like half a banana or half a piece of toast with a little peanut butter. You'll not only avoid the gnawing hunger pangs, but you'll also have an extra pep in your step to exercise harder or longer than you would on an empty stomach. When you get home, you can enjoy your usual breakfast, which is always something to look forward to.
Loading up on fiber: While it's important to eat a little something, you don't want to load up on bulky fiber that can make you feel too full or upset your stomach.
Not hydrating: Aside from food, you also need water. Definitely don't down half a gallon before you hit the gym because too much water can cause cramping, but make sure you sip a short glass of H2O while enjoying your small snack.
Not laying your outfit out the night before: You don't have oodles of time in the morning, so don't take away from your exercise time by scrambling to find your missing sock. Plan your outfit before you go to bed so you can just slip it on and go.
Not getting enough sleep the night before: Exercise is very important, but your body equally needs adequate rest. You can't stay up till midnight and expect to feel bright and perky for a 5:30 a.m. workout. Get at least seven to eight hours of sleep before your alarm goes off.
Keep reading for more fixes for workout-ruining mistakes.
More from FitSugar:
10 Healthy Choices to Make This Week
Lose Weight With These Healthy Chickpea Recipes
No Excuses! Motivational Quotes to Get You Moving
Written on February 7, 2012 at 7:00 am , by fitsugar
You splurged on $70 capris, but since they make such a difference in the way you feel during workouts, you'll never go back to cheapo clothes again. Because you've shelled out a lot of dough for these items, it's best to know how to take care of your workout clothes so they'll last. Always check the label or the brand's website for care instructions, and to answer a few common concerns about washing wicking-wear, we spoke to a few of our fave brands to get the skinny on the matter.
Go With Cold
We spoke with Zobha, Lululemon, and SmartWool, and they all agree: wash your technical and wool workout garments in cold water. No need to hand wash either! Just drop your clothes into the machine. But Lululemon adds "avoid washing with fluffy clothing (i.e. big cotton sweatshirts)" so your favorite leggings don't end up with a bunch of unwanted lint as decoration.
Say No to Bleach and Fabric Softeners
Bleach does not play nice with technical fabrics, so these brands say to avoid it. When it comes to your woolens, SmartWool recommends avoiding fabric softeners "because they coat the merino wool fibers and reduce the fibers' ability to naturally manage moisture and regulate your body temperature."
Keep reading for more on extending the life your workout wear.
More from FitSugar:
What Not to Wear to Yoga Class
5 Reasons to Splurge on Pricey Yoga Pants
No Excuses! Motivational Quotes to Get You Moving
Written on January 31, 2012 at 7:00 am , by fitsugar
Eating a healthy, balanced diet should be top on your list, especially if you're looking to lose some weight. You know you should avoid processed foods, but some of nature's whole foods, although pure and untainted, are so high in calories that eating too much can cause you to gain weight. Here are five foods you should enjoy in moderation when it comes to eating a healthy diet.
Nuts
A wonderful source of quick protein before a workout or as an afternoon snack, nuts and seeds are bursting with nutrition, but they are also tipping high in the calorie department. Instead of just blindly grabbing handful after handful, enjoy these salty snacks one ounce at a time. Get a visual and see what an ounce of nuts actually looks like. The same goes for nut butters — avoid spooning straight from the jar.
Orange Juice
Orange juice is one of nature's most refreshing beverages, and it's made from oranges so how can it be bad? You can quickly gulp down a 163-calorie 12-ounce glass, and if you enjoy a glass every morning, it's easy to see why the pounds are starting to increase on your bathroom scale. Skip the liquid calories and enjoy a fiber-rich medium orange for 62 calories instead.
Avocado
Getting your fill of healthy fats is essential to your diet, and creamy avocado is an excellent source. Even though you could easily scoop out all 322 calories of entire avocado in minutes, it's best to enjoy this fruit in smaller amounts. Definitely don't give up this super healthy food! Dice a quarter of an avocado on your salad or mash it on your sammy, so you can reap the benefits of the healthy fats without affecting your waistline.
Pure Maple Syrup
A naturally occurring sweetener, it's tough to sit down to a stack of flapjacks without pouring on pure maple syrup. This may be shocking, but a quarter-cup serving will run you 200 calories! That's almost more than the pancakes themselves. Instead of dousing your breakfast plate in nature's luscious syrup, mix two tablespoons with vanilla Greek yogurt and smear that on your stack, so you can enjoy the maple flavor without all the calories.
Keep reading for more fattening, yet all-natural foods.
More from FitSugar:
10 Foods to Help You Detox
Score a Touchdown with These Healthy Super Bowl Snacks
Under 150 Calories: Veggie Inspired Snacks
Written on January 24, 2012 at 7:00 am , by fitsugar
Between meetings, appointments, work deadlines, errands, family obligations, and trips to the gym, our lives can be so busy that we fill our bellies with the quickest, easiest bites we can get our hands on. Whether your goal is to drop unwanted pounds or eat healthier, it's in your best interest to pause before you take your first bite and ask yourself these four important questions.
Am I hungry? Seems like a silly question, because you're eating, so you must be hungry, right? Many times we reach for food out of boredom, convenience (the bag of chips was open), depression (chocolate to drown your breakup sorrows), happiness (to celebrate a promotion), or desire (who could pass up the amazing brownies your co-worker brought in?). But if we recently ate, then we're not even hungry. Make sure you're due for a snack or meal before sitting down to eat one.
Is this food filling holes in my diet? We eat to live and that means the food we gobble down should offer our bodies the vitamins and nutrients it needs to function properly. Aside from being healthy, our daily diet should also be balanced. If you ate a high-protein breakfast of eggs and Greek yogurt topped with nuts, then for a morning snack, you probably want to eat something that offers your body something besides protein, such as fiber, potassium, or vitamin A. Think of each snack and meal as a piece of your daily diet puzzle; an opportunity to take in what your body is lacking.
Is it the correct portion size? It's snack time, and you're sitting down to a banana, toast with peanut butter, a cheese stick, and crackers. Although healthy, that's way more calories than a typical snack should be. Depending on your weight, and your weight-loss goals, keep your snacks to around 150 calories, breakfast between 300 and 500 calories, lunch between 400 and 600 calories, and dinner around 400 and 600 cals.
Keep reading to find out the other more questions you should ask yourself before eating.
More from FitSugar:
What 100 Calories Really Look Like: Fresh Fruit
10 Foods to Help You Detox
Victoria's Secret Model Workout: 10-Minute Fat-Blasting Circuit
Written on January 17, 2012 at 7:00 am , by fitsugar
Body-wise, running can be a high-impact sport, which can mean achy joints, irritated tendons, and other running-related injuries. Many runners use various methods to try to lessen the impact of constantly striking the ground.
For many runners, that means choosing a soft surface. But while you may think that running on soft surfaces may help lower the strain on your body, this may not always be the case. An article from The New York Times says that runners who preferred softer surfaces don't necessarily have fewer injuries than those who ran on asphalt or concrete (and may have more, since softer surfaces can lead to accident-related injuries). In fact, some studies have shown that our bodies actually adapt to different surfaces no matter how hard they are, so the type of surface that we run on may not matter as much.
While the best running surface may be a personal preference, there are still benefits and drawbacks to each type. Whether you love to run on the street or on trails, check out the pros and cons of running on these surfaces.
Grass
Pros: Grass is soft and low impact, so it may be a better choice for people who have impact-related running injuries. It's usually rated as one of the best surfaces for running.
Cons: A run in the park can be a little stressful! Besides hidden holes, rocks, and twigs, you also have to watch out for other obstacles, like pedestrians, dogs, and other distractions.
Don't forget: Not paying attention when running on grass commonly leads to injuries like a twisted ankle, so make sure you keep aware of both the ground directly in front of you as well as the ground ahead.
Dirt
Pros: Behind grass, dirt roads are also often rated as one of the best surfaces to run on. Dirt has just enough hardness and leeway to make for a prime running surface, especially if you suffer from shin splints, IT band syndrome, or other impact-related injuries.
Cons: The unevenness of dirt trails can be bad for your ankles, so avoid dirt roads if you've had an ankle injury.
Don't forget: Like grass, dirt trails can be uneven, so pay close attention to where you're stepping.
Sand
Pros: When it's warm out, nothing beats a run on the beach. Besides being one of the most relaxing and scenic ways to exercise, running on sand offers a great way to work out little-used muscles as well as burn more calories than running on less-strenuous surfaces. Plus, since sand is soft, you can run on the surface without risking impact injuries.
Cons: Unstable soft surfaces like sand can wreak havoc on weak ankles and can lead to sprains and other accident-related injuries.
Don't forget: Don't start running on sand if you've never done it before. Try starting on the wet sand first for a sturdier running surface.
Treadmill
Pros: Even and relatively soft treadmills are a great way to run if you suffer from injuries or need a less-stressful running experience. Also, since the treadmill helps pull you a little as you run, you may find that it's easier to run longer distances.
Cons: Running on a treadmill can get tedious, and there's no beautiful scenery to distract you.
Don't forget: Always run on an incline or do intervals to get the most out of your indoor running workout and to work more muscles. Also, don't rely solely on the treadmill if you are training for a race — you'll need to be familiar with the irregularities of road running beforehand!
Keep reading for more on how different surfaces affect your running.
More from FitSugar:
Enter to Win a Year of Asics Running Shoes!
Faster, Harder, Longer: How to Maximize a Treadmill Workout
How to Find the Perfect Pair: Running Shoes
Written on January 10, 2012 at 7:00 am , by fitsugar
Yoga may be blissful, but it isn't cheap! Depending on where you live, classes can run you an average of $15 to $20 a pop. Dropping $50 or more for yoga classes each week isn't an option for everyone, but we can all benefit from a regular practice. The internet is bursting with free full-length classes or shortened yoga routines. If you're willing to pay a little, you'll be able to view a greater variety of videos. Here are some sites to check out.
Keep reading for more inexpensive ways to get your yoga on.
More from FitSugar:
6 Reasons For Winter Weight Gain . . . and How to Avoid It
5 Secrets For Getting Flat Abs
How Hollywood's Fittest Female Celebs Get and Stay in Shape
Written on December 20, 2011 at 7:00 am , by fitsugar
Want a balanced lunch that offers fiber and protein? A sandwich has your back, but choose the wrong add-ons and condiments, and it's a whole day's worth of calories in a few bites. Here are ways to cut calories from this favorite lunchable — they may not be huge amounts, but keep in mind that little bits definitely add up.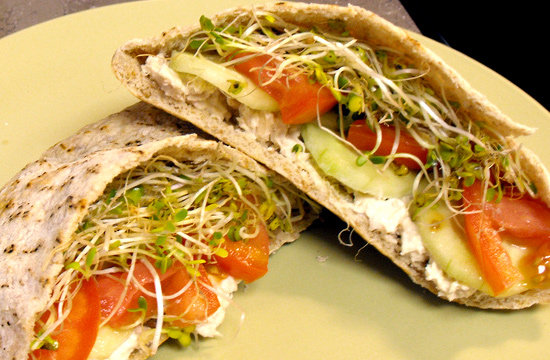 Keep reading for more ways to save sandwich calories.
More from FitSugar:
What 100 Calories Really Looks Like
How to Save 100 Calories at Breakfast, Brunch, Lunch, Cocktail Hour, Dinner
Written on December 13, 2011 at 1:19 pm , by fitsugar
Holidays stressing you out? Spa treatments and therapeutic massages are great ways to relax, but with all the gifts you're buying for those on your list, you might feel so guilty about spending the money on yourself that you skip the treatments altogether. During the high-stress time of the holiday season, many of us need relief now more than ever. Thankfully there are plenty of cheap and easy ways to relax and relieve the tension.
Bathe in Espsom Salts
These very inexpensive salts can be found at just about any supermarket. Add two cups to your bath water to relax your muscle tension, detox your system, and aid in sleep and relaxation.
Learn to Meditate
I've said it before and I'll say it again: there's nothing hippy-dippy about meditation. All it means is sitting comfortably in a quiet place and clearing your mind of all thoughts. Close your eyes and focus on your breathing; if a thought enters your mind, simply acknowledge it but don't entertain it. Try it for five minutes the first time, then slowly ramp up the length of your sessions.
Let the Tension Out
Try relieving the tension in your body with a method called progressive muscle relaxation. Sit with your back straight, your feet on the floor, and your hands in your lap. Tighten each muscle group (your neck, shoulders, etc.) for 20 seconds, then relax it slowly. Start at the head and work down the body to the feet.
Exercise Repetition
We all know that exercise is one of the best ways to de-stress. If you've got a lot on your mind, pick an especially repetitive activity, like walking, running, or rowing. You can lose yourself in your thoughts and focus on the rhythm.
Keep reading for more cheap ways to chill out.
More from FitSugar:
10-Minute Home Workout For Your Backside With Sadie Lincoln of barre3
5 Dangerous Salads and How to Make Them Healthier
Why You Should Hydrate Up During Winter Months
Written on December 6, 2011 at 7:00 am , by fitsugar
Finding the perfect workout buddy can be as challenging as finding the right pair of sneaks. Whether they push you too much or not nearly enough, here are some signs it's time to "break up" with your fitness partner.
She calls you five minutes before you're supposed to meet her outside for a morning run and invites you over for pancakes instead.
She obnoxiously screams out random numbers while you're trying to count out reps.
You hop on the treadmill next to your buddy, and while punching in your weight, she glances over and exclaims, "Holy crap, you weigh _____!!"
She tells you to bail on your group session with the hot fitness trainer because she wants to "make her move."
While doing your dumbbell sets, she continually asks, "Are you done yet?"
You sign up for your first half-marathon, and she calls you wimpy for not signing up for a full.
Keep reading here for four more reasons you might need a new workout buddy.
Now tell us: Have you ever had to break up with your fitness partner?
More from FitSugar:
Written on November 29, 2011 at 7:00 am , by fitsugar
Buying the right running shoe takes time. Finding a shoe that works with your running style and foot usually means an in-store visit to a running specialty store for expert advice.
A good running shoe store will look at your foot type, normal running distance, past or current injuries, pronation, foot length, and instep height, along with other parameters, says Lori Shannon, owner of women's running shoe store See Jane Run. And while there are several things you can ignore when shopping for a running shoe, there are still many things that matter for keeping your runs safe and injury-free. Nothing beats a personal consultation for finding the perfect fit, but we asked Lori for guidance anyone can use when looking for a running shoe. Here are more of her tips to consider.
Pay attention to fit: Every shoe (and foot) is different, but there are a few specifics that you should look for before the cashier rings up your pair. "The overall feel and fit is often overlooked but is extremely important. Some companies will insist that you are in a certain category — [like] stability, motion control, or cushioning — but those shoes may not feel good to you," Lori says. "This is an art, not a science. If you don't like how they feel, then they are wrong for you."
One way to help ensure a good fit? Pick the right time to visit a shoe store. "If you run in the morning, get fitted in the morning," Lori says. And try to go to the store after your normal daily run. "Your feet change size during the day and how long your run, [so] if you do long runs, you should try on shoes after a long run. This will give you a better fit and help you keep your toenails."